2015 Best Resale Value Awards: Mid-Size SUV/Crossover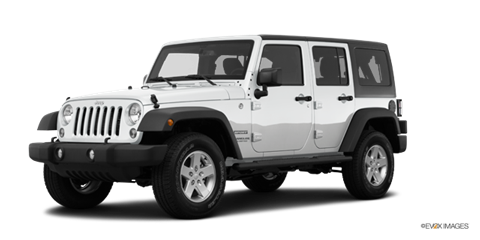 The Jeep Wrangler Unlimited adds two additional doors and additional length to the iconic off-roader, increasing cargo and passenger space, and giving it an edge in resale value. Of course, there are a lot of 4-door SUV models out there, but the Wrangler Unlimited has the singular focus that comes from doing one thing, and doing it well, tackling off-road trails with the kind of ferocity that makes the brand Jeep synonymous with off-road performance.
The only available engine is a 285-horsepower 3.6-liter V6 known as the "Pentastar," available with either the standard 6-speed manual or an optional 5-speed automatic. Not only does it deliver smooth power and low-end torque, it adds a dose of refinement to this elemental vehicle.
The Wrangler Unlimited's extra doors and added length are a welcome addition, improving on the stubby styling of the original 2-door model without hiding traditional Jeep Wrangler cues like the round headlights, 7-slot grille, and square-shouldered fenders. The 2015 Wrangler Unlimited isn't exactly luxurious inside, but it's comfortable for five, has 12.8 cu-ft of cargo space, and unique touches like easily removable doors and a fold-down windshield. Upgrade models like the Rubicon add more emphasis on off-road equipment, adding beefed-up suspension components and tires for more rigorous duty.
Getting into a Jeep Wrangler Unlimited isn't too difficult. Prices start at about $25,000, and while they can climb all the way to the $40,000 range, it's easy to get the Wrangler Unlimited you want and stay well below that. Put it all together, and you have a package that's not just compelling new, but will hold its value long after you first drive off the lot.
Get to know this car
Resale Value
at 36 months: 72.0%
at 60 months: 60.4%
Ratings & Reviews
Consumer Rating
8.8
Out of 10
Expert Rating
6.5
Out of 10
---

The Toyota 4Runner offers a real off-road pedigree, loyal fan base, and legendary Toyota reliability in a midsize SUV that's comfortable on-road and off.
Resale Value
at 36 months: 63.2%
at 60 months: 54.3%
---

The new Toyota Highlander comes with improved styling, an upgraded interior, and more features, but retains its solid family-friendly reputation.
Resale Value
at 36 months: 60.0%
at 60 months: 44.6%
---
Other Category Winners
---
Free Dealer Price Quote
Get the best price and be more prepared with your free, no-obligation price quote