2015 Best Resale Value Awards: High-End Luxury Car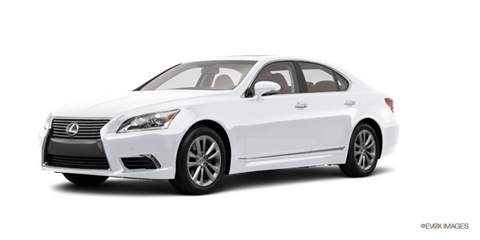 As the flagship of the lineup, the full-size Lexus LS 460 has the goods to deliver a traditional luxury experience with the added benefit of exceptional resale value. This spacious 4-door sedan has set the benchmark for build quality, a comfortable quiet ride and a high level of content that makes it a perennial leader in resale value among high-end cars.
The LS 460, which now sports Lexus' signature spindle-shaped single-frame grille, has a commanding presence thanks to its 200-inch overall length. The powerful 386-horsepower 4.6-liter V8 engine is mated to a smooth-shifting 8-speed automatic transmission, a powertrain that enables the car to accelerate to 60 mph in just 5.4 seconds.
Offered with a choice of rear- or all-wheel drive, the LS 460 range also includes a spirited F Sport model and a hybrid, the LS 600h L, a version that combines the ultimate in luxury with fuel economy.
Pricing for the 2015 Lexus LS 460 begins at $72,520, pricing that positions this full-size sedan against midsize offerings from Europe.
Get to know this car
Resale Value
at 36 months: 55.5%
at 60 months: 39.5%
Ratings & Reviews
Consumer Rating
7.7
Out of 10
---

Who says you can't have a 4-door and fun? The Porsche Panamera offers all the roominess of a conventional sedan with the spirited performance you'd expect from a 911.
Resale Value
at 36 months: 58.5%
at 60 months: 39.0%
---

The Mercedes-Benz S-Class can best be described as a technological tour de force thanks to features ranging from its large LCD instrument display to its myriad driver assist systems.
Resale Value
at 36 months: 52.0%
at 60 months: 33.5%
---
Other Category Winners
---
Free Dealer Price Quote
Get the best price and be more prepared with your free, no-obligation price quote