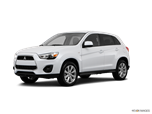 The 2013 Outlander Sport receives a mild exterior freshening, improvements to its suspension and power steering setup and some interior upgrades; 18-inch wheels are made standard while 4WD is now available on the ES trim.
About Mitsubishi Outlander Sport
For the Outlander Sport, Mitsubishi borrowed a portion of the SUV's name and all of the wheelbase from its more established older brother, the Outlander, but despite a similar name, the 2012 Outlander Sport is very much its own vehicle. The Sport burst into Mitsubishi's lineup in 2011 and has already found competition in the highly competitive sport-utility vehicle market from other recent arrivals such as the Mini Countryman and Nissan Juke, not to mention slightly bigger SUVs like the Honda CR-V. While small and seating a max of five, the Outlander Sport offers commendable fuel economy, a low starting price, desirable options and laudable warranty.