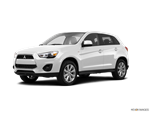 The numerous additions to the Outlander Sport for 2014 include an engine balancer shaft on models with the continuously-variable automatic transmission (CVT), a new steering wheel with audio controls, improved sound insulation, and a variety of upgrades specific to individual trim levels, mainly in the areas of touch-screens, navigation and sound systems.
About Mitsubishi Outlander Sport
Intended to compete in the smallest end of the compact SUV market, against the likes of the Nissan Juke and Mini Countryman, the 2014 Mitsubishi Outlander Sport brings style and a fun-to-own image. It drives nice and easy, is small enough to be maneuverable around town, will haul 5-passengers and a reasonable amount of random stuff, gets really good gas mileage, and has a low price. Mitsubishi says it's the company's best-selling model, and with good reason – it's a completely agreeable little SUV.