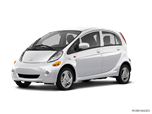 Mitsubishi drops the 2014 i-MiEV price nearly $6,100, making it one of the most affordable electric cars on the market. New standard features include heated driver's and passenger seat, a "CHAdeMO" DC quick-charge port, heated side mirrors, rear speakers, a leather-covered steering wheel and shift knob, fog lights, and aluminum-alloy wheels.
About Mitsubishi i-MiEV
Mitsubishi figured the fastest way to bring an electric car to market was to take an existing micro-car platform, add an electric powertrain, and then meet all U.S. safety and emissions requirements needed to bring the car here. That's the theory behind the 2014 Mitsubishi i-MiEV, but unfortunately for Mitsubishi, other manufactures have come up with a far better plan. On its surface, the i-MiEV looks like the perfect commuter car, easy to park in small spaces and requiring only an electric charge to send it on its way. But, the i-MiEV is rather crude, both in its technology and interior features. Its biggest plus is the low price, which may be enough to sway those looking for a second car purely for in-town errands.