Vehicle Details
Interior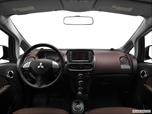 The inside of the 2014 Mitsubishi i-MiEV isn't all electric-car flash with informational screens to show energy flow or how efficiently the car is being driven. Instead, the look is more like a conventional gasoline-powered car. It uses a regular key, has a regular-looking gas gauge indicating how much "fuel" you have left in your theoretical tank and a regular-looking gear selector. The seats are hard and without much support, rear-seat legroom is minimal and when it gets cold, Mitsubishi advises using the seat heater over the electricity sucking in-cabin heater.
Exterior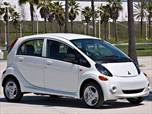 There's no denying that the 2014 Mitsubishi i-MiEV has a unique look. With its engine positioned in the rear of the vehicle, this small electro-runner has no need for a long hood. As a result, it sports compact front and rear dimensions and a high roofline – giving it a somewhat jelly-bean-like silhouette. Large windows serve to further cartoonize the i-MiEV hatchback's distinct dimensions, but they also give the driver a good view of the road – always welcome when darting in and out of city traffic (and avoiding bicycle messengers).
Notable Standard Equipment
A 2014 Mitsubishi i-MiEV ES comes equipped with niceties like a front-seat heaters, a 50/50-split/folding reclining rear seat, a 4-speaker 100-watt audio system, auxiliary 12-volt DC power outlet, battery warmer, 8A/12A switchable battery charging cable, fog lights, a leather-wrapped steering wheel and shift knob, and power operation of the windows, mirrors and locks. A quick-charging port for public charging stations (known as a "Level 3" charger – good for an 80-percent charge in about a half hour) is also standard.
Notable Optional Equipment
Options for the i-MiEV are limited to a few accessories such as rear backup sensors, a USB adapter for iPod, interior illumination kit and body side molding. The standard 120-volt plug-in charge takes almost a full day, so we recommend getting the 240-volt "Level 2" charging station, which can be purchased through Best Buy's Geek Squad and installed in your home garage for faster charging (about 7.0 hours).
Under the Hood
The electric heart of the 2014 Mitsubishi i-MiEV isn't under the hood – it's behind the rear seat. Comprised of an electric motor, a fixed reduction gear transmission and a 16 kWh lithium-ion battery (with an 8-year, 100,000-mile limited warranty), this powertrain delivers 66 horsepower and 145 lb-ft of torque to the Mitsu's rear wheels. It can go up to 80 mph, so short freeway jaunts are very doable, provided you have enough charge in the battery. On a regular 120-volt home outlet, a full charge for the i-MiEV will take 22.5 hours. On a 240-volt outlet, about seven hours. A public quick-charging station – not a common sight just yet outside of major cities – will charge the battery to 80% in a matter of 30 minutes.

AC synchronous permanent magnetic motor
16 kWh lithium-ion battery pack
66 horsepower @ 3,000-6,000 rpm
145 lb-ft of torque @ 0-300 rpm
Projected per-charge range: 62 miles
Pricing Notes
The 2014 Mitsubishi i-MiEV ES carries at a Manufacturer's Suggested Retail Price (MSRP) of just under $24,000. If you qualify for a $7,500 federal tax credit, the i-MiEV slides in closer to $16,500. The Nissan Leaf is priced from $29,650 and the Ford Focus Electric from around $36,000, but both prices are before factoring in any potential credits. If you're wondering how much an i-MiEV might be worth in the future, the jury is still out on electric-car residuals. But as demand for these cars rises, expect to see their values rise as well.
To find out what consumers are really paying for this vehicle, check the Fair Purchase Price | Calculate payments for this vehicle
---