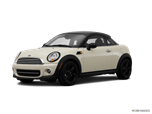 Mini is trimming its model lineup, with the Coupe and its 2-seat Roadster counterpart not getting the callback to enter a second generation on Mini's latest platform. Still, like all 2015 Minis, the Coupe gets automatic climate control, and the fog lights switch from halogen to LED.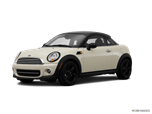 Changes to the 2014 Mini Cooper Coupe are so minimal even the price is unchanged.
About MINI Coupe
The 2015 Mini Coupe is arguably the most eccentric model from an already-eccentric brand. Or just think of it as the most concentrated Mini available. With only two seats and a small cargo area, this car is not exactly a beacon of practicality. Compared to the Hardtop sibling from which it's derived, the Coupe holds half as many people and doesn't have the cargo flexibility of the standard Mini hatchback. But what the Mini Coupe lacks in everyday usability, it makes up for in attitude and the brand's inherent go-kart-quick handling. Its styling, defined by a "floating" roof and integrated spoiler worn like a backward baseball cap, is a like-it-or-not affair. If you're in the former camp, act soon: The Coupe is exiting Mini's lineup shortly.