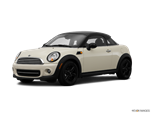 Changes to the 2014 Mini Cooper Coupe are so minimal even the price is unchanged.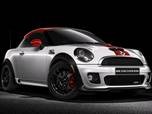 As with the rest of Mini's lineup for 2013, Bluetooth wireless connectivity is now standard, replacing Sirius satellite radio, which becomes an option. John Cooper Works editions are now more fuel-efficient and can be had with a 6-speed automatic transmission.
About MINI Cooper Coupe
All Minis are smallish, but the 2014 Cooper Coupe takes smallness almost to the level of the half-century-ago originals. The Coupe is not for practicality. It's a 2-seater, there's a modest trunk and the roof looks like a chopped top from a 1950s' custom; the next size down is the Smart. The Coupe shares mechanicals with the other Minis which means, being even littler, all the lovable Mini traits of incredibly snappy response and cat-quick handling are enhanced to new highs of near-unbelievableness. Competitors are few: Fiat 500, Scion iQ? Maybe, but not quite. Still, as long as you don't need to haul much in people or cargo the Coupe is a thoroughly usable daily driver, returns terrific fuel economy and is an absolute giggle.