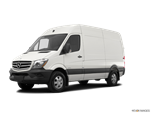 Two part-time 4-wheel drive (4WD) systems, one with low-range gearing, are now available for the Mercedes Sprinter. To prevent the slab-sided Sprinter from being blown around, Crosswind Assist uses the Electronic Stability Program to keep the vehicle in line. Service interval for the 2015 Mercedes Sprinter is extended to 20,000 miles.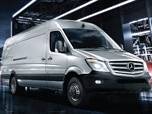 The 2014 Mercedes-Benz Sprinter is all-new this year, with new exterior and interior styling, a new standard 4-cylinder diesel engine with a 7-speed automatic transmission and additional accident-avoidance safety equipment. There is more high-end optional equipment too, such as an available onboard navigation radio by Becker.
About Mercedes-Benz Sprinter 2500 Cargo
The vast majority of Mercedes Sprinters will be commercial vans, acting as delivery vehicles, airport shuttles, executive transport, and far more. The Sprinter van is available in five configurations, ranging from the Sprinter minibus to the bare Sprinter cab chassis. All are available as either the Sprinter 2500 or the heavy duty Sprinter 3500. The larger size, greater carrying capacity, and more comfortable driver's area of the Sprinter van will make it a favorite of professional drivers. The purchasing department will scrutinize Mercedes' promise of lower long-term operating costs when it sees the Mercedes Sprinter van's higher purchase price. Competition is led by the far-less-expensive Ford Transit and also includes the new Nissan NV and Ram ProMaster, and the aging Chevrolet Express and GMC Savana.