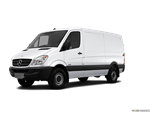 Outside of a new preventative maintenance package, the 2013 Mercedes-Benz Sprinter sees no changes of note.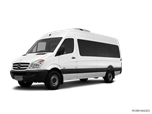 There are no major changes for 2012. However, a stunning concept styled by Becker Automotive Design of Ventura, CA and shown at this year's New York auto show reveals the length of customizing possibilities for the Sprinter, especially when money is no option.
About Mercedes-Benz Sprinter 2500 Cargo
The 2012 Mercedes-Benz Sprinter commercial van looks to challenge the monopoly held by Ford and Chevy by offering more features, more options, and better fuel economy. The Sprinter brings to market a very European idea of what a commercial vehicle should be. Unlike its American counterparts, the Sprinter's silhouette favors the vertical over the horizontal, with roof extensions that allow a 6-foot tall individual to stand upright inside the cargo bay. In passenger van form, the 2012 Sprinter provides seating options with an emphasis on safety, comfort and versatility, offering everything from a traditional passenger van to a shuttle-style MiniBus with sideways seating and dual-door passenger entry. But, the greatest differentiator between the Sprinter and its domestic rivals can be found under the hood, where a 3.0-liter turbodiesel V6 provides the grunt of a big V8 with the fuel economy of a miserly 6-cylinder engine.