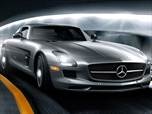 Just in case the SLS AMG GT isn't ferocious enough with its standard 583 horsepower, an even more powerful Black Series coupe is available for 2014. It boasts 622 horsepower, high-performance parts like ceramic brakes, and a roughly $276,000 starting price.
One might think it difficult to improve upon the grandness that is the SLS, but for 2013 Mercedes-Benz found a way. Most notable is the addition of 20 more horsepower under the hood to raise output to 583 horsepower. In addition to adding "GT" to its name, the 2013 SLS AMG features a recalibrated 7-speed automatic transmission, modified suspension, and darkened headlights and taillights.
About Mercedes-Benz SLS-Class
The SLS AMG GT is Mercedes-Benz's supercar, a $200,000-plus luxury rocket that combines blistering performance with exquisite fit and finish. Available as a 2-seat coupe or convertible, the SLS-Class has the power and pedigree to run with the finest from Ferrari, Aston Martin and Bentley. The SLS AMG GT boasts some of Mercedes' most advanced technology and highest power output while also infusing the provenance of its ancestor, the 300SL "Gullwing." Like that 1950s coupe, the hardtop version of the SLS is defined by its upward-swinging doors, while roadster versions enable top-down thrills. In coupe or convertible form, the SLS features a rubber-burning 583-horsepower V8 engine. For 2014, the SLS' second to last year of production, an even higher-performance Black Series coupe is available.