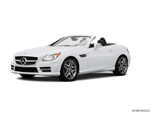 Now in the midst of its 3rd-generation design that made the SLK look and feel more like the ultra-luxurious SL, Mercedes' entry-level roadster carries over unchanged for 2015.
Still fresh from its redesign two years ago, the SLK only brings a pair of different exterior colors to the table for the 2014 model year.
About Mercedes-Benz SLK-Class
Think of the 2015 Mercedes-Benz SLK as two cars in one: a fun-loving open-air roadster and a cozy, secure coupe. The dual personality comes courtesy of a hardtop roof that retracts with the touch of a button. As with its main competitor the BMW Z4, this ability to transform gives this small 2-seater a degree more practicality. Mercedes' compact convertible touts a plusher ride compared to its more dynamic BMW rival yet still offers a good blend of power and handling. For drivers seeking performance above and beyond that found in the base turbocharged 4-cylinder SLK250 or V6-powered SLK350, there's the top-line SLK55 AMG model that packs a 416-horsepower V8. Fundamental to all SLK luxury roadsters are the prestige and pampering inherent in Mercedes-Benz vehicles.