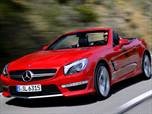 With the Mercedes-Benz SL-Class being all-new last year, it carries over unchanged for the 2014 model year.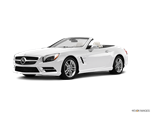 The 2013 Mercedes-Benz SL-Class is all-new inside and out. The trio of turbocharged engines receive notable bumps in horsepower, and despite the additional thrust, fuel consumption for the 2013 SL550 has been reduced by roughly 30-percent. Mercedes-Benz has also bolstered the SL's luxury quotient, as a host of exclusive creature comforts and infotainment services combine to create a new level of sophistication for the 60-year-old nameplate.
About Mercedes-Benz SL-Class
Beloved by Hollywood and Silicon Valley alike, the Mercedes-Benz SL is iconic as both a classic roadster and as a symbol of success. The latest SL-Class was revamped just last year with fresh design, lighter materials and gee-whiz technology to create a hardtop convertible that remains true to its "Sport Lightweight" nomenclature. Convertible editions of the Jaguar XK, Porsche 911 and BMW 6 Series offer varying degrees of performance, panache and luxury in the SL's 6-figure territory, but few can match this Mercedes' level of prestige. And thanks to its well-insulated retracting hardtop, twin-turbocharged V8 and abundance of innovative features, the 2014 SL-Class remains a sublime grand touring car.