2007 Mercedes-Benz SL-Class Review
By KBB.com Editors
In the world of premium and exotic roadsters, only a handful of vehicles offer the exclusivity, performance and overall reliability of the Mercedes-Benz SL. Highlighting its stunning exterior is a clever retractable hardtop, allowing the SL to serve as both coupe and convertible. The SL's varied model line delivers performance ranging from impressively quick to awesomely fast, and the car's extensive list of safety features is unsurpassed in this category. Few exotics can match the SL's impressively smooth and comfortable ride, either. Price may be the SL's only Achilles' heel, with the lowest-priced SL starting tens of thousands of dollars higher than a BMW 650i or Jaguar XK.
You'll Like This Car If...
The SL is more than just a performance dynamo; it's an attention grabber. The car looks as good with the power-operated hardtop covering the cockpit as it does when the top is retracted. If you believe a car should signal to the world the level of your success, the SL is the perfect spokesperson.
You May Not Like This Car If...
The only reason not to like the SL is the price. Don't feel bad; well over 90 percent of the rest of us can't afford one, either.
What's Significant About This Car?
The 382-horsepower SL550 replaces the SL500, while the SL55 AMG and SL600 both receive a slight boost in horsepower. A minor front end freshening, some new interior colors and a 50th anniversary SL550 set to debut later in the model year mark the visible changes for 2007.
Driving Impressions As you drive the SL you'll feel exactness in the steering wheel and brakes and in the way the car corners and copes with emergency situations. What you don't feel...
is the army of computers monitoring, controlling and adjusting every facet of the SL driving experience. Mercedes-Benz has equipped the SL with Active Body Control, an innovative suspension that helps keep the car level in sharp turns. The system can also detect when a rollover is imminent, activating the pop-up rollover bar. The SL550 combines both power and price into a very desirable package. Powered by a 382-horsepower V8, the SL550 rockets from dead stops like a stone leaving a slingshot, perhaps leaving one wondering just what in the world you might do with all the power of the other even more-potent SL variants.
Retractable Hardtop
The SL's retractable hardtop works flawlessly and, when in place, is as handsomely appointed inside as any Mercedes coupe.

Panorama Glass Panel Top
The optional panorama glass panel top puts a unique twist on the retractable hardtop design.
2007 Mercedes-Benz SL-Class Details
Interior
The SL's cockpit is awash in leather and power features. In fact, just about everything inside the SL is automated, which means you set it once, then forget it. We should point out that some of the controls—the COMAND system, for example—are complicated and take some effort to master. As for overall comfort, you'll be hard pressed to find a more comfortable set of seats, and the SL's ingenious folding top design doesn't take up the entire trunk when retracted, leaving just over seven cubic-feet for luggage or shopping bags.
Exterior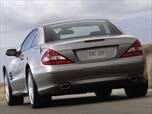 The SL blends many lines from the latest Mercedes-Benz show cars into a production coupe that words alone cannot adequately describe. A long hood, short deck, massive wheels and a barely detectable retractable hardtop put the SL in a class all its own. Deeply sculpted side scoops and a protruding nose mark a revolutionary departure from the conservative styling found on the previous generation SL. Yet below the seductive skin the SL's legendary structural and safety features remain intact.
Standard Equipment
As standard equipment, the SL550 has dual-zone automatic air conditioning, the COMAND system, driver's information center, illuminated keyless remote, Xenon HID headlamps with wiper/washer, auto-dimming mirrors with right-hand tilt-down feature, navigation, Bose audio, dual side-impact airbags, front head airbags, automatic pop-up roll bar, dual 12-way leather power seats, cruise control, stability program, power tilt/telescopic steering wheel, traction control, Active Body Control, a seven-speed automatic transmission and 18-inch alloy wheels.
Optional Equipment
Some of the SL's more popular options include the three designo designer series packages, the sport package, ventilated seats, Keyless Go, Parktronic, Distronic automatic cruise control, panorama glass panel roof with power sunshade, heated steering wheel and a tire pressure monitor.
The SL550's 5.5-liter V8 is the best choice for mere mortals, offering acceptable power at a good price, although there is something purely sumptuous about the 510-horsepower normally-aspirated V12 of the SL600. Speed freaks, thrill seekers and millionaires will no doubt opt for the supercharged SL55 AMG or the twin-turbo SL65 AMG, both of which offer similar horsepower figures but with a measurable difference in low-end torque.

5.5-liter V8
382 horsepower @ 6000 rpm
391 lb.-ft. of torque @ 2800-4000 rpm
EPA city/highway fuel economy: 14/22

5.5-liter V8 Supercharged
510 horsepower @ 6100 rpm
531 lb.-ft. of torque @ 2600-4000 rpm
EPA city/highway fuel economy: 14/19

5.5-liter V12
510 horsepower @ 5000 rpm
612 lb.-ft. of torque @ 1900-3500 rpm
EPA city/highway fuel economy: 13/19

6.0-liter V12 Twin-Turbo
604 horsepower @ 4800 rpm
738 lb.-ft. of torque @ 2000-4000 rpm
EPA city/highway fuel economy: 13/19
To compare current market prices, check out KBB.com's car classifieds to view the new and used Mercedes-Benz SL-Class vehicles for sale near you.