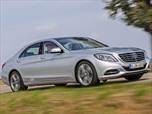 There are no major changes to the Mercedes Benz S-Class for 2016. The AMG nameplate is now a prefix as opposed to a suffix.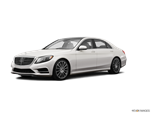 The Mercedes-Benz S-Class expands its 2015 lineup with three V12 models – the stately S600 Sedan and the ferocious, range-topping S65 AMG Sedan and Coupe, – and a plug-in hybrid that arrived in early 2015. Other than a touch-pad controller replacing the keypad, the other, still-fresh models remain largely unchanged.
About Mercedes-Benz S-Class
While many luxury cars claim to be the envy of the world's elite, the 2016 Mercedes-Benz S-Class earns this accolade without any need for clever ads or celebrity endorsements. CEOs and heads of state the world over are attracted by the S-Class' power, sophistication and attention to detail. While cars like the BMW 7 Series and Lexus LS are impressive, they always seem to be one step behind the S-Class. The big Benz's technology, driver-assist aids and luxury trappings are second to none, justification enough for its nearly $100,000 base price. In its most elite form, the V12-powered AMG S65 impresses beyond reason, while the eco-friendly super rich can opt for the S550e plug-in hybrid.