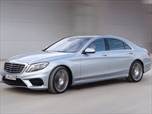 The Mercedes-Benz S-Class expands its 2015 lineup with three V12 models – the stately S600 Sedan and the ferocious, range-topping S65 AMG Sedan and Coupe, – and a plug-in hybrid that arrived in early 2015. Other than a touch-pad controller replacing the keypad, the other, still-fresh models remain largely unchanged.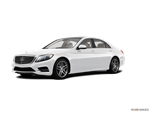 The 2014 Mercedes-Benz S-Class is an all-new iteration of Germany's most revered full-size luxury sedan.
About Mercedes-Benz S-Class
Few cars signal success more than the 2015 Mercedes-Benz S-Class lineup of sedans and coupes. For decades it has been the CEO's luxury liner of choice thanks to its power, grace and technological sophistication that keep rivals like the BMW 7 Series, Audi A8 and Lexus LS playing constant catch-up. All-new just last year, the latest S-Class has again thrown down the gauntlet with class-leading and class-exclusive technology that makes Mercedes' flagship sedan nearly smart enough to drive itself. Of course, this benchmark doesn't come cheap. A base S-Class begins near $100,000, while the lineup's new performance elitist – the V12-powered S65 AMG Sedan – bows at nearly $225,000. These figures shouldn't bruise the S-Class' exclusive buyers. If they do, there's always the seats' hot-stone massage feature.