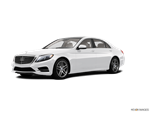 The 2014 Mercedes-Benz S-Class is an all-new iteration of Germany's most revered full-size luxury sedan.
About Mercedes-Benz S-Class
For 2013, the Mercedes-Benz S Class sedan continues to redefine the meaning of motorized transportation, elevating the automobile to the type of status symbol more commonly reserved for vintage works of art or designer labels. As one would expect of a luxury leader, the S-Class is offered in a variety of flavors, beginning with the entry-level S550. From there, the choices include the V12-powered S600, the clean-diesel S350 BlueTEC and the environmentally conscious S400 Hybrid. Leaving environmental concerns aside, the S-Class offers two very potent AMG models: the S63 and S65. No matter which S-Class you choose, you'll be getting a car that is the epitome of performance, comfort, safety and technology. And, with a starting price of over $90,000, why would you expect anything less.