2014 Mercedes-Benz S-Class Expert Review
By Richard Homan
The 5-passenger 2014 Mercedes-Benz S-Class sedan is both a luxury icon and a technological powerhouse, scarily close at times to being a self-driving car. Available in rear-drive and all-wheel-drive forms, the S550 starts close to $100,000. Exquisite in execution, the new S-Class casts a long light that luxury sedans like the BMW 7 Series, Audi A8, Jaguar XJ and Lexus LS are constantly trying to bask in. In luxury and technology terms, the S-Class more than delivers, but if you also have to be considered performance royalty, the S63 AMG bows at $140,000. And while its options may not deliver palm fronds and grapes, the 2014 S-Class can give you the equivalent of a hot-stone massage and an aroma-therapy session.
You'll Like This Car If...
Let's say your time has finally come and you're determined to have the most toys, but you're also a practical sort. You love to drive, but you love being driven. And you spend a good deal of your time at "the club." S-Class, my friend.
You May Not Like This Car If...
You've owned S-Classes, but you're not addicted to the brand, the competitive set of full-size luxury sedans is rich with overwhelmingly good possibilities.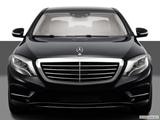 What's New for 2014
The 2014 Mercedes-Benz S-Class is an all-new iteration of Germany's most revered full-size luxury sedan.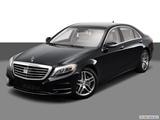 Driving Impressions With a good bit of its structure built out of aluminum, the 2014 Mercedes-Benz S-Class feels light for its size as you maneuver it through its paces. As quiet inside...
... as an empty cathedral, the new sedan also feels stiffer – in the positive "moving-as-a-single-unit" way. The ride of the standard S-Class's Airmatic cushion-of-air suspension with adaptive damping is even – firm without being jarring and comfortable without slurring drunkenly into corners. The S550's twin-turbocharged V8 engine is a model of healthy acceleration, smoothed out into elegance with the help of its 7-speed automatic transmission, which engages the now nearly ubiquitous fuel-saving stop/start feature (the engine shuts off when you pull up to a red light, starting again when you lift your foot off the brake pedal). If you need your S-Class to breathe fire, the 2014 S63 AMG 4Matic or the 2015 Mercedes-Benz S65 AMG (621 horsepower) will endear.
MAGIC BODY CONTROL + ROAD SURFACE SCAN
Imagine driving at speed over one of those extra-wide, flat neighborhood speed bumps and never even noticing it. Rear-drive 2014 S-Class models can be equipped with a stereoscopic-camera setup that can "read" the road ahead and instantaneously adjust the S-Class suspension to make some pretty dramatic road imperfections just disappear.

CIRCUS-QUALITY DAY-SPA OPTIONS
Who says an S-Class has to be serious all of the time? Beyond-all-reason options include a hot-stone-massage setting as one of the multicontour-seat massage functions, and – are you sitting down? – a glovebox-mounted fragrance atomizer that lets you infuse a choice of scents throughout the S-Class cabin. Yes, seriously.
2014 Mercedes-Benz S-Class Details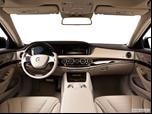 Interior
The new S-Class is not about leather and wood, both standard at this level of luxury car, naturally. Rather S-Class is more about the executive dimensions of every seat in the car, the emphasis on comfort, and the massive skyscape offered by the Panoramic Sunroof. For the driver, two 12.3-inch high-resolution color screens display driving information and infotainment along with car-system controls. This new Mercedes sedan is also the king of LED lighting – dramatically longer lifetimes and greater energy efficiencies – with not a single lightbulb used in the entire car, inside or out.
Exterior
Swept back but still all grown up, the new S-Class uses a few tricks cribbed from the exquisite 1st-generation CLS to portray a fastback profile. From the blown-back shape of the headlights to the elegant flow of the C-pillar and the converging crease-lines in the profile, the 2014 S-Class feels low-slung and finessed without sacrificing any interior roominess or room in the trunk, which holds a generous 16.3 cubic feet of cargo.
Standard Equipment
Notable standard equipment comes notably standard on the 2014 Mercedes-Benz S-Class. Beyond the expected luxury amenities shared by all full-size, first-class sedans, the S-Class includes a 13-speaker Burmester (if you have to ask, you're not an audiophile) sound system, the Panoramic Sunroof, all-LED lighting, and seemingly endless safety considerations, including advanced Pre-Safe features that automatically prepare the S-Class and its occupant-safety systems when Pre-Safe senses an imminent collision, as well as standard side-impact airbags for the outboard rear seats. Another standard S-Class feature that extends to all Mercedes-Benz vehicles in the U.S. is 24-hour roadside assistance that never, ever expires.
Optional Equipment
Optioning up a new S-Class can be a pricey, self-indulgent affair. A slew of stand-alone options is available, as is a series of premium packages that add everything from heated/ventilated/massaging seat comfort and keyless operation to extreme safety – "smart" cruise control that varies your speed and distance based on the traffic in front of you, automatic lane-keeping and blind-spot monitoring, and more. Rear-seat options feature a package that includes 4-zone climate control, an electrically adjustable footrest for the right-rear passenger, and airbags for the seatbelts. A bounty of "Executive" rear-seat options and option packages is available as well.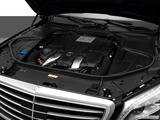 In spite of the acres of deep, deep tech behind the scenes, the 2014 Mercedes-Benz S-Class sedan is possibly one of the simplest cars in the world to just get in and drive. The rear-wheel-drive S550 and all-wheel-drive S550 both use a twin-turbocharged V8 engine producing 449 horsepower that flows effortlessly through a 7-speed automatic transmission. In the extreme corner, the S63 AMG 4Matic V8 produces 577 horsepower. As with the S550 models, a 7-speed automatic transfers the S63's power to the wheels, but this transmission enjoys AMG's Speedshift programming that snaps 100-millisecond upshifts and rev-matched downshifts when you manually actuate the standard S-Class shift paddles on the steering column. Just off idle, both S-Class engines deliver an elegant crush of torque – the power of acceleration.

S550, S550 4Matic
4.7-liter twin-turbocharged V8
449 horsepower @ 5,250-5,500 rpm
516 lb-ft of torque @ 1,800-3,500 rpm
EPA city/highway fuel economy: 17/25 mpg, 16/26 mpg (4Matic all-wheel drive)

S63 AMG 4Matic
5.5-liter twin-turbocharged V8
577 horsepower @ 5,500 rpm
664 lb-ft of torque @ 2,250-3,750 rpm
EPA city/highway fuel economy: 15/23 mpg
Dropping yourself into a 2014 Mercedes-Benz S-Class sedan means staring face-to-face at a starting price of around $94,000 for an S550, $3,000 more for the 4Matic model. Or, you can really put a ring on exclusivity with the $140,000 S63 AMG. If impulse control is not your specialty, options and option packages can easily add thousands (or tens of thousands) to your price. This makes the S550 the priciest luxury sedan in a roomful of V8 competitors – about a $2,000 hike over the BMW 7 Series, $15,000 over an Audi A8 – but those dreams don't come quite so wonderfully over-equipped as the Mercedes. To see what S-Class buyers in your area are paying, check out the Kelley Blue Book Fair Purchase Price. Over time, the S-Class will hold its value better than its German rivals, but the magic resale value of a Lexus LS 460 still reigns supreme.
To compare current market prices, check out KBB.com's car classifieds to view the new and used Mercedes-Benz S-Class vehicles for sale near you.