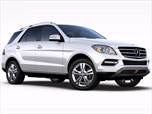 Mercedes-Benz sacrifices last year's ML350 BlueTEC and ML550 on the altar of fuel efficiency, replacing them with the 4-cylinder powered ML250 BlueTEC and twin-turbo V6-powered ML400.
For 2014, a few color and trim changes make up the majority differences from last year's M-Class crossover SUV. The Sport Styling Package formerly only available on the ML550 is now offered on the ML350 as well.
About Mercedes-Benz M-Class
Mercedes-Benz has continued to refine the M-Class SUV for 2011 by introducing a new, very efficient hybrid drivetrain. Though equipped with a relatively heavy, less-advanced nickel-metal-hydride battery pack, the ML450 Hybrid helps make this already-sophisticated SUV line a front-runner in the luxury utility race. With a unibody design, excellent road manners and a world-class suspension, the vehicle delivers all the comfort of a crossover with the capability of an SUV. With a respectable cargo area that delivers up to 29.4 cubic feet of storage and seating for five individuals, the 2011 Mercedes-Benz M-Class remains an excellent alternative family vehicle.