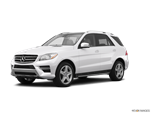 Mercedes-Benz sacrifices last year's ML350 BlueTEC and ML550 on the altar of fuel efficiency, replacing them with the 4-cylinder powered ML250 BlueTEC and twin-turbo V6-powered ML400.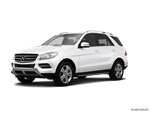 For 2014, a few color and trim changes make up the majority differences from last year's M-Class crossover SUV. The Sport Styling Package formerly only available on the ML550 is now offered on the ML350 as well.
About Mercedes-Benz M-Class
The 3-pointed star may draw them into showrooms, but the versatility and variety of features really sell the 2015 Mercedes-Benz M-Class SUV. This year, the V6 diesel and V8 gasoline engine are replaced by smaller, more efficient versions. The 2015 ML250 diesel replaces last year's V6-powered ML350 BlueTEC with a 4-cylinder diesel engine, while the new twin-turbo V6 in the ML400 4Matic all-wheel-drive model replaces the V8 in last year's ML550. Both new models lose a little power compared to the powertrains they replace, but both also get notably better fuel economy, which in today's market may be more important. What's unchanged is the ability of the M-Class to never let its five passengers forget they're riding in one of the world's premier luxury brands.