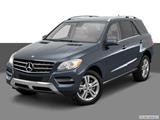 Driving Impressions Whether it's the fuel-sipping ML250 BlueTEC diesel, the fire-breathing ML63 AMG, or any of the ones in between, the Mercedes M-Class offers up a combination of luxurious appointments, a quiet...
... and comfortable ride, and real-world capability that's tough to find elsewhere. The M-Class is designed to drive exceptionally well regardless of what's pouring from the skies, and if you add the off-road package, and the M-Class is a genuinely capable off-road vehicle, better than you'd expect of a city-dwelling luxury SUV. Yet the M-Class is also an enjoyable driver's car, especially with the twin-turbo V6 or the performance-bred twin-turbo V8 in the AMG model. While not as sporty overall as the
BMW X5
, the M-Class features an adjustable suspension, allowing you to choose how stiff the SUV rides, though we're guessing "Comfort" is most popular setting. The only downside is the too-light steering, which isn't very communicative.