Narrow year range (drag arrows to filter):
See photos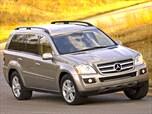 In a category whose sales are dominated by three-row offerings, Mercedes joins the club in a big—for a German nameplate—way. Dimensionally, the Mercedes GL450 trumps its sibling, the M-Class, as well as offerings from BMW, Land Rover and Lexus. It also supplies Mercedes' Alabama plant with a three-pronged product (M-Class, R-Class and GL) strategy, enhancing both plant volume and plant flexibility.
About Mercedes-Benz GL-Class
As the largest SUV to wear the 3-pointed Mercedes-Benz star, the luxurious GL-Class for 2015 delivers all the utility of a family-friendly SUV and combines it with the styling, performance and interior opulence of the finest S-Class sedan. The GL's reputation for excellence is bolstered by impeccable build quality, enviable safety ratings and a sophisticated suspension that delivers one of the most comfortable yet dynamic rides of any full-size luxury crossover SUV. The big Benz offers a variety of powertrain choices including an all-new twin-turbocharged V6 and a fuel-efficient diesel. And, unlike many luxury SUVs derived from more mainstream platforms, the 2015 GL-Class shares no such pedigree. It's pure Mercedes-Benz through and through, which is one more reason the GL-Class SUV is held in such high regard.