Narrow year range (drag arrows to filter):
See photos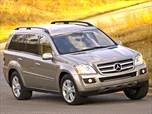 In a category whose sales are dominated by three-row offerings, Mercedes joins the club in a big—for a German nameplate—way. Dimensionally, the Mercedes GL450 trumps its sibling, the M-Class, as well as offerings from BMW, Land Rover and Lexus. It also supplies Mercedes' Alabama plant with a three-pronged product (M-Class, R-Class and GL) strategy, enhancing both plant volume and plant flexibility.
About Mercedes-Benz GL-Class
If you want the biggest SUV built by Mercedes-Benz the 2014 GL-Class is it. Think of this 3-row, 7-seater as the S-Class of sport-utility vehicles, and you won't be far off. It's built with impeccable precision and structural integrity, is amazingly quiet, its suspension deals with any paved or non-paved surface you will likely encounter, and any one of its four available engines cranks out impressive power. The GL can tow a trailer up to 7,500 pounds and, with its generous ground clearance and sophisticated all-wheel drive, is even capable of moderate off-road trips. Add in the Mercedes-Benz reputation for exemplary fit and finish, plus safety features and occupant protection that are second to none, and the GL-Class stands in the very first rank of full-size sport-utility vehicles.