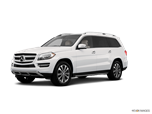 2013 marks the second generation of the Mercedes-Benz GL-Class. This luxury SUV that's built in Alabama now has a slightly larger exterior and redesigned interior, more powerful and fuel-efficient engines, and standard safety systems such as collision prevention assist, which employs radar to warn the driver of a potential crash.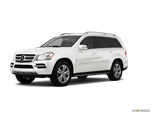 For 2012, the Mercedes-Benz GL-Class carries over largely unchanged. The interior has received minor tweaks and adjustments, including directional lines for the rearview camera. All GL-Class models now feature LED daytime running lights as standard equipment.
About Mercedes-Benz GL-Class
One look at the luxury import segment and you see—very quickly—the preponderance of growth in the SUV category. With the launch of its M-Class over eight years ago, Mercedes anticipated what has since become an industry-wide trend. And while the M-Class has certainly enjoyed its share of success, its reception was hampered by the lack of a third-row seat at launch and, once a third row was finally introduced, the marginal comfort and accessibility of that seating position. More recently, Mercedes has aggressively rounded out its offerings with the R-Class, a unique take on six-passenger travel and, in the spring of 2006, its new GL450, Mercedes' first 'pure' three-row SUV.