2007 Mercedes-Benz GL-Class Review
By KBB.com Editors
One look at the luxury import segment and you see—very quickly—the preponderance of growth in the SUV category. With the launch of its M-Class over eight years ago, Mercedes anticipated what has since become an industry-wide trend. And while the M-Class has certainly enjoyed its share of success, its reception was hampered by the lack of a third-row seat at launch and, once a third row was finally introduced, the marginal comfort and accessibility of that seating position. More recently, Mercedes has aggressively rounded out its offerings with the R-Class, a unique take on six-passenger travel and, in the spring of 2006, its new GL450, Mercedes' first 'pure' three-row SUV.
You'll Like This Car If...
If you want the benefits of Mercedes engineering (they did, after all, invent the automobile), German build quality and American-style accommodation, the GL450 delivers in spades. In a manner similar to Nissan's Armada—although with substantially more refinement—Mercedes splits the dimensional difference between General Motors' Tahoe/Yukon/Escalade and their stretched variants.
You May Not Like This Car If...
If third-row seating is a very occasional requirement, renting a larger vehicle probably makes more sense than maneuvering—or propelling—three rows of SUV on a regular basis.
What's New for 2007
In a category whose sales are dominated by three-row offerings, Mercedes joins the club in a big—for a German nameplate—way. Dimensionally, the Mercedes GL450 trumps its sibling, the M-Class, as well as offerings from BMW, Land Rover and Lexus. It also supplies Mercedes' Alabama plant with a three-pronged product (M-Class, R-Class and GL) strategy, enhancing both plant volume and plant flexibility.
Driving Impressions At the press preview in Napa Valley, California, road conditions were variable, including some fairly aggressive, on-road twists and turns and an equally aggressive off-road demonstration. The GL450 handles itself...
with grace, especially when equipped with the standard air suspension and optional adaptive damping. Despite almost 5,300 pounds of curb weight and an overall length of 200 inches, the GL450 drives like a much smaller, significantly lighter SUV. This is in contrast to recent drives in the M-Class, which we felt drove 'larger' than its physical size suggested. Response from the only available engine—the new 4.6-liter DOHC V8—is great, made more so by the excellent seven-speed automatic. Venture off-road, especially if in possession of the Off-Road package, and you won't be disappointed. The GL450 can handle anything an owner with payments remaining would care to give it. It may not be quite as off-road capable as a comparably priced Range Rover, but we like its balance between on-road practicality and off-road proclivity.
Adaptive Damping System
Few vehicle types confront changing road conditions more often than an SUV. The GL450's air suspension is constantly reacting to road surface variations with an ability to change compression and rebound damping every .05 seconds. If the road is smooth, the system delivers relatively soft damping; if irregularities abound, rebound and compression modes will harden. The end result behind the wheel is an SUV with a comfortable ride when you want it, and appropriately more responsive handling when you need it.

Unitized Body/Chassis
In contrast to its domestic competition, Mercedes-Benz builds the GL450 using a unitized body and chassis. This offers many benefits, including lower weight, a lower center of gravity and, when connected to an all-independent suspension, a more car-like ride. The GL450 remains a fully capable, all-season SUV, but with the on-road alacrity of smaller crossovers. It's a compelling combination.
2007 Mercedes-Benz GL-Class Details
Interior
The GL450's bucket seats are well-shaped and supportive. The driver is fronted by a four-spoke steering wheel and what Mercedes describes as a 'sport-oriented' instrument panel. The horizontal grab handles on the console are notable, alluding—both aesthetically and functionally—to the GL450's off-road capability. We remain unsure regarding the shift lever returning to the steering column; it does provide for a clean, uninterrupted console, but is less-than-intuitive in its operation. To its credit, the design team has provided reasonably easy access to the third row, along with generous headroom throughout the interior.
Exterior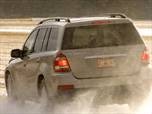 With its all-new GL450, Mercedes hits all the right exterior notes. In profile, the big Mercedes is very well-proportioned, disguising its overall length (200.3 inches) with short overhangs, an aggressive windshield angle, generous greenhouse, flared wheel arches (similar to the new S-Class) and careful detailing. The traditional Mercedes face is framed by high-tech halogen headlamps; optional Bi-Xenon lamps include a swiveling feature for additional visibility in turns. Privacy glass covers both the 'B' and 'C' pillars, giving the appearance of one uninterrupted glass panel along the entire side of the vehicle. It is, from any angle, one unified design.
Standard Equipment
With assembly in Alabama, the GL450—like both the M-Class and R-Class—is value-driven. That's reflected in a long list of standard equipment, where several items are notable. Passive safety is addressed with two-stage front airbags for front seat occupants, side airbags for both first and second row seats, along with side-curtain airbags spanning all three rows. Audiophiles will enjoy a standard, glove box-mounted six-disc CD changer, auxiliary input for MP3 players and eight speakers. Those living in the sunbelt should appreciate the rear (stationary) sunroof with shade, while inhabitants of the snowbelt will benefit from standard full-time four-wheel drive.
Optional Equipment
Despite all that is standard, the GL450's extensive list of options won't disappoint either feature-oriented consumers or profit-oriented dealers. Driving in congested areas is a good argument for Distronic, Mercedes' adaptive cruise control. For those unable to drive, the rear-seat entertainment system should provide plenty of entertainment. If you elect to see Tobruk as it is today, opt for the Off-Road package, offering a two-speed transfer case with locking center and rear differential. Of course, the usual offerings include SIRIUS Satellite Radio, DVD navigation, heated second row seating and a rearview back-up camera. Lastly, a Class IV trailer hitch is a worthwhile compliment to the GL450's 7,500-pound tow rating.
The big Mercedes-Benz is blessed with an all-new 4.6-liter V8. If, as advertised, the GL450 represents "more Mercedes to love," then this new V8 is more performance to adore. With four valves per cylinder and dual overhead cams per bank, the engine delivers a seamless 335 horsepower and 339 lb.-ft. of torque and, more impressively, delivers that power and torque over a broad rev range. Connecting the sweetness to all four wheels is a seven-speed, electronically controlled automatic. Zero to 60 miles per hour arrives in about 7.4 seconds; top speed is electronically limited to 130. For those with a preference for heightened efficiency, a 3.0-liter V6 diesel—in 45-state form—will be available in early 2007.

4.6-liter V8
335 horsepower @ 6000 rpm
339 lb.-ft. of torque @ 3000 rpm
EPA city/highway fuel economy: 14/18
To compare current market prices, check out KBB.com's car classifieds to view the new and used Mercedes-Benz GL-Class vehicles for sale near you.