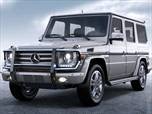 For 2015, Mercedes-Benz sends its G-Class luxury SUV to showroom floors without any major changes or upgrades from the 2014 model.
About Mercedes-Benz G-Class
Originally designed to ferry military personnel over inhospitable terrain, Mercedes' G-Class for 2015 now finds itself tasked with taking the ultra-rich to and from their summer cottages and winter chalets. Nicknamed the "G-Wagen" (short for Gelandewagen), this hulking machine doesn't fit the traditional definition of a luxury SUV, with a dated design and upright seating. But, maybe that's its charm. It's sort of a rebel vehicle for the pampered set that doesn't want to be seen as going soft. The G-Class' $115,000-plus price tag places it in league with the Range Rover and Porsche Cayenne, but should the need ever arise, its owners can take solace in knowing their luxury SUV remains one of the world's most rugged and confident off-road explorers ever built.