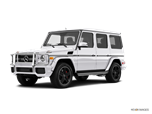 No major changes have been made to the 2014 Mercedes G-Wagen after it received a new interior and an enhanced exterior last year.
About Mercedes-Benz G-Class
One word best describes the Mercedes-Benz G-Class: extreme. Fit for use as a military vehicle, the 2014 G-Class is among the most capable SUVs ever created. Affectionately called the "G-Wagen," from the German Gelandewagen ("cross-country car"), it is rugged to the max, boasting three locking differentials and the ability to climb or descend an incredible 80-percent incline. Inside, though, Mercedes' ultimate off-roader is as luxurious as you'd expect for an SUV costing over $115,000. Like the Range Rover or a high-end Porsche Cayenne, most buyers will never use their G-Wagen to a fraction of its capabilities. But such rationale matters little. For this elite set, the reason to own a Mercedes G is much like the vehicle itself: It's all about being extreme.