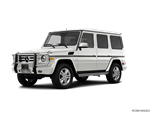 Last year's dropping of the G55 AMG performance model suggested to many the end was near for Mercedes' beloved but quirky G-Class. But no. A facelift, new interior and a better-yet new G63 AMG hyperformance model shows the 2013 Mercedes G-Class is healthy as ever.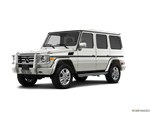 The AMG-tuned G55 is no longer available, but Mercedes has created a new "Edition Select" package for the 2012 Mercedes-Benz G550.
About Mercedes-Benz G-Class
While not as racy as the new GL-Class, or in the running to win any awards for aerodynamic efficiency, there is no denying the ability of the G-Class Benz to make a lasting impression. Big, boxy and about as modern as a dial-up phone, the G500's military roots serve it well, especially when it comes to off-road ability. Aftermarket manufacturers have a wide assortment of chrome accents and big wheels, allowing the discerning G500 driver to personalize his or her vehicle in ways the original designers could never have imagined. But be warned: Though priced similarly to a Land Rover Range Rover, the G500 does not return the same refined ride or quiet cabin.