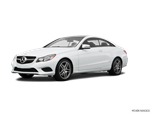 For 2015, the Mercedes-Benz E-Class gains a new model, the E400. Powered by a twin-turbocharged 3.0-liter V6 engine, this model replaces the V8-powered E550 sedan. The E550 Coupe and Cabriolet, however, remain in production with the E400 Coupe and Cabriolet replacing last year's E350 models.
About Mercedes-Benz E-Class
If ever there was a case of "something for everyone," it can be found with the 2015 Mercedes-Benz E-Class midsize-luxury cars. Long considered the go-to car for successful people who desire quality, luxury and solidity, the E-Class doesn't display the same flashy exterior and trendy styling commonly associated with BMW, Cadillac and Lexus cars. Stressing safety as a major selling point, MB equips every E-Class with its best safety and handling technology, as well as its most opulent luxury features and options. The E-Class' sleek sheet metal lends itself well to the numerous model variations, while engine choices range from a modest 4-cylinder turbodiesel to the fire-breathing twin-turbo V8 in the AMG trim.