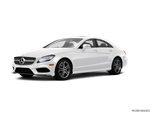 2015 sees the introduction of the CLS400 turbo-V6 model, as well as a major facelift for the entire CLS-Class lineup. A standing view screen is added to the sculpted dash, while the rear-drive CLS550 gains a new 9-speed automatic transmission. The CLS63 AMG S becomes the sole AMG offering.
Changes to the 2014 Mercedes-Benz CLS are limited to the AMG model, which gains more horsepower, standard 4Matic all-wheel drive and a new 577-horsepower high-performance S trim.
About Mercedes-Benz CLS-Class
Mercedes-Benz spawned the "4-door coupe" revolution, and the 2015 CLS-Class coupe proves it still owns the segment. New for 2015 is the Mercedes-Benz CLS400, a twin-turbocharged V6 entry-level model set to do battle with the Audi A7 and BMW 6 Series Gran Coupe. A more powerful front-end design lessens the original car's sleek, streamlined appearance, but keeps the CLS in line with MB's other 4-door models. Power, speed and superb handling are the 2015 CLS' trademarks, combined with a sense of exclusivity that seems to elude lesser brands. Those who desire an even more exclusive calling card will appreciate the 577-horsepower provided by CLS63 AMG S 4Matic, although they might not be as enamored by its $100,000-plus price tag.