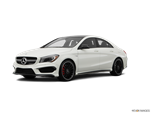 The Mercedes-Benz CLA is all-new for 2014. Though it slots below the C-Class in the manufacturer's lineup (and undercuts the C250 by about $5,000), the CLA is slightly longer. However, when the redesigned C-Class debuts later this year, it will trump the CLA in size.
About Mercedes-Benz CLA-Class
Mercedes-Benz's high-end reputation was built on pricey cars like the commanding S-Class sedan and the iconic SL roadster, but the German manufacturer is hoping its all-new 2014 Mercedes-Benz CLA-Class sedan can draw more buyers from the growing entry luxury segment, attracting a younger generation of brand loyalists with an attractive starting MSRP of $29,900. Borrowing styling cues from the bigger and more upmarket CLS, which launched the so-called 4-door coupe trend, the all-new 2014 Mercedes-Benz CLA-Class wraps a more aggressive version of those looks into a smaller, tighter package that aims to steal car shoppers away from compact to mid-size sedans like the Audi A4, BMW 3 Series and Cadillac ATS. That's why we named it one of the 10 Best Luxury Cars Under $40,000 for 2014.