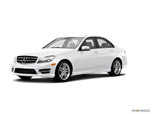 Changes for the 2014 Mercedes-Benz C-Class include the addition of 18-inch wheels to the C350 and a standard split-folding rear seat on all models. The sport-oriented C63 AMG receives a new Edition 507 package that bumps output to 507 horsepower and 450 lb-ft of torque.
About Mercedes-Benz C-Class
While the favorite ride of the rich and famous is undoubtedly a well-appointed S-Class, Mercedes-Benz builds a smaller luxury ride that is well within reach of most upper-middle-class Americans. Offered in coupe and sedan form, the 2014 Mercedes-Benz C-Class is more than just an entry ticket into an exclusive car club, it is a safe, reliable and luxurious mode of transportation respected for excellence. Be it the classy coupe, the sub-$40,000 4-cylinder turbo C250 or the pricey yet thrilling V8 powered C63 AMG, there is a C-Class to fit most tastes and budgets. While not as performance tuned as rivals from Cadillac and BMW, the C-Class offers a more compliant ride preferred by many luxury buyers.