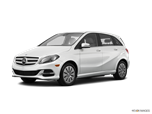 The 2015 Mercedes-Benz B-Class Electric Drive gains a few styling changes and new standard equipment including Keyless Go and Garmin Navigation. Last year's optional Range Package is also standard, adding a heated windshield, additional roof insulation and a button for extending the B-Class' range between charges.
About Mercedes-Benz B-Class
As electric cars move to the mainstream, entries such as the 2015 B-Class 5-door electric hatchback from Mercedes-Benz will continue to give the public more reasons to go green. We'll concede the B-Class' exterior is not as expressive as the BMW i3, but it does mirror similarly sized electrics, namely the Ford Focus and Volkswagen e-Golf. Unlike other electrics, however, the B-Class delivers a more active driving experience, and the quality of its construction and materials is beyond reproach. Because it uses a drivetrain supplied by Tesla, the B-Class doesn't exactly break new ground. There's also the matter of plug-in hybrids such as the Ford C-Max Energi or Chevrolet Volt, which many find more practical as they don't rely solely on electric power.