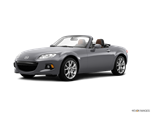 With the exception of three new colors there are no changes to the Mazda MX-5 Miata for 2014.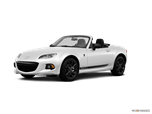 The Mazda MX-5 Miata for 2013 sees minor revisions to its front-end design, some new interior and exterior color and trim treatments and a new wind blocker for the retractable-hardtop model. Fog lights are added to the Sport trim while all 6-speed manual-transmission cars come standard with the Suspension Package. The Touring trim is now called Club.

About Mazda Miata MX-5
The Mazda Miata has been around for about a quarter-century and, through all that, remains true to the original concept: The 2014 MX-5 Miata is a tidy, affordable, front-engine rear-drive 2-seat roadster with a lively small-displacement engine and snappy performance, razor-sharp handling and a fun-to-drive factor that's off the scale. The Miata has its own racing series (two of them, in fact), has earned universal appeal from all ages and both sexes and is known and admired around the world. Its true competitors are few: Perhaps the Mini Cooper Roadster is on that list. Lots of sports cars are faster or flashier but, now in its third generation, the 2014 MX-5 Miata perfectly maintains that tradition of unmatched affordable and reliable fun behind the wheel.