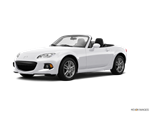 The Mazda MX-5 Miata is marking its milestone with an exclusive 25th-anniversary edition, of which only 100 will be made. Base Sport models now get a cloth roof instead of vinyl. Otherwise the rest of the lineup carries over unchanged until the all-new, 4th-generation Miata arrives.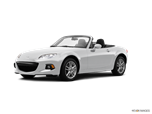 With the exception of three new colors there are no changes to the Mazda MX-5 Miata for 2014.
About Mazda Miata MX-5
2015 marks the 25th anniversary of the Mazda MX-5 Miata, and though it has matured over the years to offer features like a retractable hardtop, its simple formula continues to work its magic. The Miata's potion for emotion goes like this: Start with a 2-seat roadster body that boasts the best handling this side of a go kart, add a zippy engine and rear-wheel drive, give it an attainable price, then let it set you free. Tradeoffs for its grin-inducing manners include limited cargo space and an absence of the latest technology as this 3rd-generation Miata nears the end of its lifecycle. Those factors may deter casual commuters, but driving purists will relish what remains the most thrilling roadster for the money.