Narrow year range (drag arrows to filter):
See photos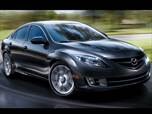 A new Touring Plus model is added to both the i and s trims and includes a power moonroof, ground illumination, Bluetooth connectivity, Blind Spot Monitoring System and anti-theft alarm. Sadly, the lovely six-speed manual transmission option for the Grand Touring has been dropped, although still available on the lesser equipped SV, Sport and Touring trims.
About Mazda MAZDA6
The 2016 Mazda6 may not have the massive market share of best-selling rivals like the Honda Accord and Toyota Camry, but in the competitive midsize sedan market, it still stands out. True to Mazda's "Zoom-Zoom" boasts, the Mazda6's calling card is its athletic nature. Among the 11 family sedans comprising this segment, the Mazda6 is arguably the most fun to drive. Its 2.5-liter 4-cylinder engine isn't a powerhouse, but it is remarkably fuel-efficient. Rather than relying on brute force, the Mazda's dynamic performance is enabled by its light weight, impressive cornering ability, and a satisfying 6-speed manual transmission for do-it-yourselfers. Stylish design is also part of the Mazda6's appeal, but its 5-passenger interior can feel somewhat confined.