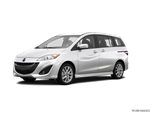 The 2015 Mazda5 is carried over from last year, with no new features. However, you've missed your chance if you wanted the manual-transmission model, as it's been dropped this year. EPA city fuel economy also slips one point to 21 mpg.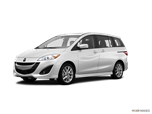 There are no major changes planned for the 2014 Mazda5.
About Mazda MAZDA5
The 2015 Mazda5 is a compact minivan, combining the utility of sliding doors and flexible seating with the maneuverability of a compact car. With the ability to seat up to six, or haul large loads when you fold the seats down the Mazda5 is also surprisingly fun to drive. Sure, its 4-cylinder engine isn't particularly powerful, but the sharp steering and lively suspension definitely keep things interesting. About the only competition the Mazda5 has is the Ford Transit Connect Wagon, which has a similar philosophy of offering a lot of van in a small package. However, the Transit Connect costs thousands more than the Mazda.