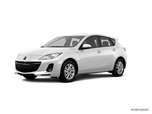 After receiving the new Skyactiv engine and a freshened face the year before, the 2013 Mazda3 carries over mostly unchanged. The i Sport model now comes with the Skyactiv engine, and the Sky Mica blue exterior color has been dropped.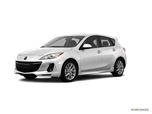 The 2012 Mazda3 gets a freshened front face and a new instrument panel with a blue background and white lettering. Also new is the fuel-efficient 2.0-liter Skyactiv engine. Cars equipped with the Skyactiv engine are fitted with a choice of two new 6-speed transmissions, either manual or automatic. In addition, there are a number of equipment changes across the numerous trim levels.
About Mazda MAZDA3
In the MAZDASPEED3, Mazda finally has a compact sports model to do battle with the Volkswagen GTI and Dodge Caliber R/T. Billed as one of the fastest front-wheel-drive compact cars on the planet, the turbocharged MAZDASPEED3 puts some real muscle behind Mazda's sporty design language. Sharing most of its body with the hot-selling Mazda3 five-door practically insures the MAZDASPEED3 will be a slam-dunk success, while dynamic changes to the suspension, gearbox and interior are sure to satisfy the most demanding compact car enthusiasts. With a starting price below $23,000 and a 5,000-unit limited production run, customers are likely to find that the greatest obstacle to owning a MAZDASPEED3 won't be cost, but finding one on a dealer lot.