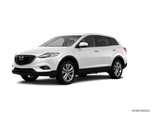 For 2013, the CX-9 receives a freshened exterior with a new design front and rear. Inside, a 5.8-inch color touchscreen is standard, as is a new infotainment system with HD Radio, Pandora Internet radio connectivity, text-to-speech capability, and a new microphone for better speech recognition. Blind-spot monitoring and a rear-view camera now come to the mid-level Touring models.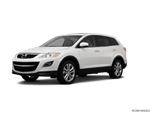 There are no major changes for 2012.
About Mazda CX-9
Car-based "crossover" utility vehicles (CUVs) try to marry the best attributes of passenger cars and SUVs, and these days they are leaving the woods and mountains behind. The goal is to offer a sporty, urban vibe, and none pulls this off better than the twin CUVs from Mazda, the CX-7 and CX-9. They offer the tough-to-achieve blend of a sport sedan and an SUV that can corner and carry equally well. Both are vehicles that are genuinely fun to drive yet still useful on a shopping trip or a family vacation. Of the two, the CX-7 may be a tad sportier, but its larger three-row, seven-passenger CX-9 stablemate, which shares its engine and much of its architecture with Ford's Edge and Lincoln MKX, delivers a similar feel while upping the utility quotient considerably.