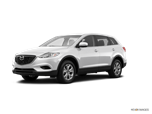 Not much has changed for the 2015 Mazda CX-9. A new Titanium Flash color joins the palette, and a new Recreational Accessory Package adds roof rails, cross bars, a cargo net and stainless-steel rear bumper guard to certain combinations in Touring and Grand Touring models.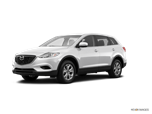 The CX-9 mostly carries over for 2014. Slight changes include updated wheels and the addition of rear cross-traffic alert on Touring and Grand Touring models.
About Mazda CX-9
The 2015 Mazda CX-9 is the company's largest model, a 3-row, 7-passenger crossover SUV designed to go head-to-head against the likes of the Honda Pilot, Toyota Highlander, Ford Explorer, Nissan Pathfinder and many others. However, the Mazda CX-9 does this with something special up its sleeve: Mazda-ness. That means it's designed to be fun to drive, and while it definitely has a leg up on competitors like the Highlander and the Chevrolet Traverse, the reality is that the CX-9 has been around since the 2007 model year, and its age is starting to show in the way it's equipped and packaged, and in fuel economy. Nonetheless, the CX-9 boasts a powerful V6 engine and enough visual punch to stand out from its competition.