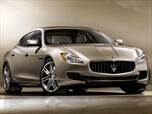 Changes for Maserati's 2015 Quattroporte luxury performance sedan are mostly cosmetic. On the S Q4, last year's power-adjustable foot pedals are now optional, while a Wi-Fi hotspot is made standard. New options include red leather seating, new 19- and 20-inch wheels and new paint and interior color choices.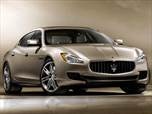 The Quattroporte sedan has been completely redesigned on a longer wheelbase and offers more interior and trunk room than the car it replaces. In addition to its stylish new exterior, the Maserati flagship offers – for the first time – twin-turbo V6 power combined with all-wheel drive.
About Maserati Quattroporte
The Italians just have a knack for creating fine art, which is why it comes as no surprise that the 2015 Maserati Quattroporte luxury sedan is one of the most stunning high-end European 4-doors money can buy. A throaty exhaust and aggressive front end dispose of the notion that this sedan is only for the pampered. Indeed, the Quattroporte in GTS trim can dash to 60 mph in a mere 4.6 seconds, and while that isn't as quick as a Mercedes-Benz S63 AMG it's nothing to sneeze at. The Quattroporte for the 2015 isn't as technically advanced as an Audi A8, but there is an Old World craftsmanship about this car that sometimes seems absent with other mass-produced luxury models.