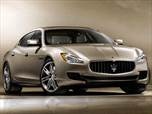 The Quattroporte sedan has been completely redesigned on a longer wheelbase and offers more interior and trunk room than the car it replaces. In addition to its stylish new exterior, the Maserati flagship offers – for the first time – twin-turbo V6 power combined with all-wheel drive.
About Maserati Quattroporte
"That's Italian" is the best way to describe the 2014 Maserati Quattroporte. From its sexy exterior to the throaty exhaust, this 4-door luxury sedan is expensive, exotic and rare. And therein lies its appeal. You won't see one on every corner. And whether you're admiring it in your driveway or from the sumptuous leather interior with its signature Trident-sporting analog clock, there is no doubt where this car came from. The Quattroporte is an Italian feast of sensory delights. It's quick, but not as quick as, say, a Mercedes-Benz S63 AMG (0-60 mph in 3.9 seconds versus the Quattroporte GTS' 4.6 seconds), nor as technology laden as an Audi A8. But it is distinctive, which is powerful stuff in the rarefied segment in which it competes.