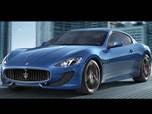 Maserati is not a large company, and it has focused its efforts on the upcoming 2015 Maserati Ghibli sedan. As such, the GranTurismo is essentially the same car this year as it was last year.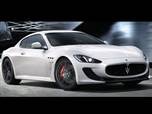 A new Sport model appears for 2013, and the lineup now consists of Coupes in Sport and MC trim, and Convertibles in base and Sport versions. The Sport upgrade includes a fresh, more aggressive face and a retune of the 4.7-liter V8 to 454 horsepower (444 in the base Convertible).

About Maserati GranTurismo
The 2014 Maserati GranTurismo is a unique take on the Italian exotic-car formula. With a name that's automotive couture, a leather-lined interior, and a shape that could only come from Italy, the Maserati GranTurismo brings the visual appeal. Add a Ferrari-inspired V8 engine and quick-shifting transmission, plus programmable suspension and transmission modes, and you have a car that can back up its curbside appeal. Less expensive than an Aston Martin DB9 or Bentley Continental, but a bit more than a Jaguar XKR or Porsche 911, it has a personality quite different from any of them. This year is mostly the same as last, with two coupe models (Sport and MC), and three Convertibles (base, Sport and MC) to choose from.