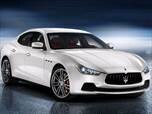 Changes to Maserati's midsize 2015 Ghibli sedan are slight. Bluetooth and navigation are now standard, as is satellite radio.
Essentially everything about the 2014 Maserati Ghibli sedan lineup is new, from the chassis itself to the Ferrari-built 3.0-liter V6 twin-turbocharged engine, to every aluminum body panel. The adaptable 8-speed automatic transmission is of the latest German technology. Only the classy interior theme is familiar.
About Maserati Ghibli
With its Quattroporte-inspired styling, the 2015 Maserati Ghibli sports sedan holds a distinct advantage over less visually dynamic cars. The Ghibli sports sedan and its all-wheel-drive twin, the Ghibli S Q4, are powered by a set of twin-turbocharged V6 engines that pump out 345 and 404 horsepower, respectively. The Ghibli's overall performance, however, isn't nearly as polished or refined as that of the BMW 5 Series, which might be forgivable if not for the Ghibli's rather lofty sticker price. A handsome interior is somewhat degraded by parts clearly pilfered from Chrysler products and the hard front seats leave something to be desired. Then again, for those more impressed by making a statement than flat-out performance, Maserati's 2015 Ghibli speaks loud and clear.