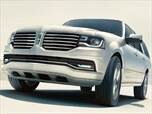 The 2015 Lincoln Navigator gets a freshly styled nose and tail, bringing it in line with the "wing" grille on other new Lincoln vehicles. It also gets a new interior with premium leather and wood trim. Under the hood is a new 3.5-liter twin-turbocharged V6 engine, replacing the 5.4-liter V8.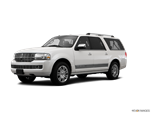 Other than some new colors, the Lincoln Navigator luxury SUV remains unchanged for 2014.
About Lincoln Navigator L
The Lincoln Navigator was the first full-size luxury SUV, and it continues to be a force to contend with in the segment. The 2015 Lincoln Navigator isn't all-new, but it gets a comprehensive update that covers the exterior, interior and powertrain. The good news is that while Lincoln has added more luxury, it hasn't taken anything away. Both standard-length and long-wheelbase L models get a new twin-turbocharged EcoBoost V6 engine offering more power and torque and better fuel economy than the old V8, while still offering best-in-class towing capacity of up to 9,000 pounds. With new technology and a substantially upgraded interior, the new Navigator should still be able to hold its own against similarly upscale SUVs like the Cadillac Escalade, Mercedes-Benz GL-Class and Infiniti QX80.