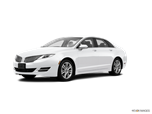 After a complete refresh last year, there are no major changes to the 2014 Lincoln MKZ.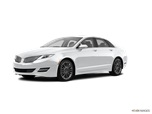 2013 marks the 2nd generation of the Lincoln MKZ. In an effort to regain some credibility in the luxury space, Lincoln endowed its best seller with a sleek new exterior design, more powerful and fuel-efficient engines (including a hybrid powertrain), and a full menu of high-tech gizmos such as Active Park Assist that automatically steers the car into a parallel parking space.
About Lincoln MKZ
The 2014 MKZ competes with an established field of luxury brands, so its unique styling and plentiful standard-feature roster are not the only tricks up Lincoln's sleeve. To make the MKZ stand out, Lincoln touts the availability of an all-wheel drive (AWD) model as well as an extremely fuel-efficient hybrid trim priced identically to its gasoline-only equivalent. A clever marketing campaign seeks to associate the MKZ with younger buyers who may be seeking comfort over performance. However, as many Lincoln showrooms reside inside Ford dealerships it may be a tough sell, especially when buyers can get into a loaded Ford Fusion with many of the same features as the MKZ but in a less expensive and arguably more attractive car.