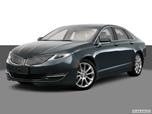 With a full redesign not long ago, the Lincoln MKZ carries on with only minor changes. Chiefly, the previous top-line Preferred equipment package is eliminated, making the Reserve group the highest. Don't fear though, as all of the Preferred group's features are available as stand-alone options.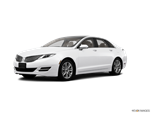 After a complete refresh last year, there are no major changes to the 2014 Lincoln MKZ.
About Lincoln MKZ
The 2015 Lincoln MKZ sedan competes in the most hotly contested luxury segment there is, against many well established brands. Beyond its styling, the 2015 MKZ offers up a compelling level of equipment, including all-wheel drive (AWD) and a hybrid model that costs the same as the base 4-cylinder model. As an alternative to cars like the Lexus ES 350, the MKZ is a compelling package. However, this 5-passenger Lincoln's biggest competition may come from within, specifically, the Ford Fusion upon which it is based. Like the Lincoln, the Fusion offers up a lot of eye candy for its segment, and a lot of high-tech features. It also costs significantly less, and unfortunately for this Lincoln, could very well be on the same dealer lot.