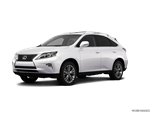 Like other Lexus vehicles, the RX's front end is now graced with the sportier "spindle grille," and LED running lights and a power rear liftgate are standard. The RX F Sport is a new trim level with stiffer suspension and 8-speed transmission.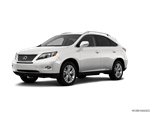 Buyers who found something to love in the 2011 RX 350 won't be disappointed by the vehicle's successor. The 2012 model carries on much the same, though the vehicle's 3.5-liter V6 engine now operates using 87-octane fuel for the first time.
About Lexus RX
The RX 350 continues to be the gold standard by which other luxury SUVs are measured, a claim bolstered by its status as one of the all-time best-selling luxury SUVs in the country. For 2007 the RX 350 (formerly the RX 330) receives a new engine and a host of new features to help keep it attractive to both new and repeat Lexus customers. Built on the same platform as the ES 350 sedan, the RX 350 offers the ride, handling and safety features of a premium luxury car with the tall ride height and all-wheel-drive versatility of a mid-size SUV. Outstanding repair records and top-notch resale values, combined with unrivaled build quality and customer service, explain why so many Americans flock to the RX 350.