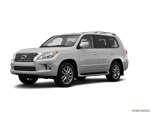 After receiving a major freshening last year, the 2014 Lexus LX 570 sees no major changes.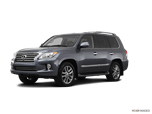 The LX returns for 2013 with new exterior design tweaks that include Lexus' "spindle" grille, new taillights, and turn signals incorporated into the side-mirror housings. Inside, the instrument panel has been updated, and drivers get the Easy Access system that automatically retracts the seat and steering wheel when entering and exiting the vehicle.

About Lexus LX
As the largest and most powerful luxury SUV in the Lexus stable, the 2014 LX 570 has to live up to some pretty big responsibilities. Although based on the same platform as the Toyota Land Cruiser, the LX carries a longer list of standard luxury equipment. Offering both refinement and brute force, the LX can comfortably shuttle its passengers while simultaneously getting down and dirty. The LX 570's advanced terrain-response system allows it to tackle all manner of off-road obstacles, while its 7,000-pound tow rating should be able to handle most needs. Of course, the LX 570 doesn't come cheap, and its big V8 engine returns some pretty anemic fuel-economy figures promising a hefty monthly fuel bill.