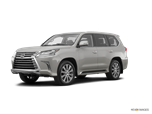 The 2016 Lexus LX 570 gets the Lexus "spindle" grille and LED headlights, which combine to conquer the once-subdued styling on this full-size luxury SUV. In addition, there's a new 8-speed automatic transmission, and parking assist. Inside, there's a huge 12.3-inch navigation screen and additional controls for rear passengers.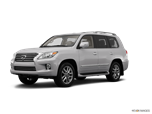 For 2015, the Lexus LX 570 gains Siri Eyes-Free mode for compatible iPhone 4S and 5 smartphones.
About Lexus LX
The 2016 Lexus LX 570 is one of those rare luxury SUV models that's actually capable of going off road.far off road. Based on the ultra-stout and ultra-capable Toyota Land Cruiser, the full-size LX 570 SUV offers a heaping extra layer of style, sophistication, features and luxury. It's as rugged as it is refined, with a sophisticated terrain-response system allowing it to traverse almost any obstacle. Of course, the reality is that few 2016 LX 570 SUVs will ever go off road, with the possible exception of venturing down a rutted horse trail, utilizing its 7,000-pound tow rating. Like the Land Rover Range Rover, the LX 570 luxury SUV isn't cheap to purchase or operate, thanks to fuel economy in the teens.