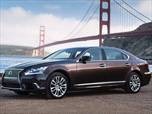 A sharp-looking exterior refresh, an updated interior, some new technologies and countless less-visible tweaks help contemporize a platform carried over from the 2012 Lexus LS. One feature now missing is the LS's overly-complicated, seldom-used auto-park feature. Auto park, you will not be missed.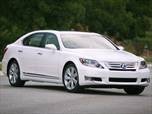 With earthquakes followed by a tsunami in 2011, it's understandable that Toyota and Lexus may have been focused elsewhere. To that end, there's a new color, Nebula Gray Pearl, replacing Smoky Granite Mica. This is the sixth year for this LS, the fourth generation.
About Lexus LS
Toyota set the pace for hybrids, starting with the Prius. Lexus, its luxury division, has matched hybrid powertrains with bigger vehicles, delivering impressive performance along with reasonable economy. For 2008, Lexus offers a hybrid version of its largest sedan. Similar to the extended-length version of the LS 460 sedan, launched for 2007, the LS 600h L promises the performance of a luxury V12 model but with the economy of a "best-in-class" V8. Lexus calls it the world's first V8 all-wheel-drive hybrid, and a three-position switch allows selecting among "power," "hybrid" (normal) or "snow" modes for the powertrain. No other manufacturer offers a hybrid this size -- 202.8 inches long on a 121.7-inch wheelbase -- so the LS 600h L has no true competitors.